With over 38 years experience, the team at Onze Southern Connecticut Plumbing and Heating know a thing or two about providing quality plumbing services.  We combine this work ethic with the latest technologies including tankless water heaters.
As approved Navien service specialists, we provide Navien tankless water heater installation and repair services to homeowners in Fairfield and New Haven counties.
Why choose a tankless water heaters?
Up to 50% more efficient than standard water heaters
On demand hot water, heat only what is needed
Continuous hot water supply
Longer product life
Environmentally friendly
All Navien Tankless Water Heaters and Combi Boilers are ENERGY STAR® qualified and up to 97% efficient.

Authorized Navien Service Specialists
Navien Water Heater Installation
After three years of offering and installing varying brands of tankless water heaters Onze Southern Connecticut Plumbing & Heating selected Navien tankless water heaters as their product of choice due to their:
Innovative design
Installation flexibility
Manufacturers warranty
Ease of service and operation
Quality of the product
Quick access to maintenance and repair components
Navien is the perfect choice for homes of all sizes, as well as large homes and commercial businesses thanks to their cascading technology which allows up to 16 water heaters to be linked together providing on-demand heating for very high loads.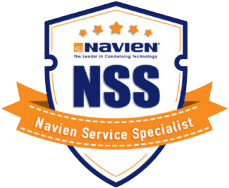 Navien Tankless Water Heater Service
Every tankless water heater requires annual maintenance to protect your investment, extend the life of the heater and avoid potential downtime. Onze Southern Connecticut Plumbing & Heating, we are your Navien service specialists.
We maintain three full Navien parts kits in stock
Our trucks carry the necessary gas and electrical testing equipment
Our employees are current with Navien required factory training
We are level three Navien Service Specialists the highest Navien rating available
Becoming a Navien Service Specialist requires more than simply filling out an application form, our heating contractors must undergo thorough training with Navien. Participants must complete several steps in addition to complying with all local and state contracting and business regulations.  Participants in the program must also purchase dedicated part kits so you know that your Navien service will come with genuine repair parts that are designed only for your water heating equipent.
Through this training and our relationship with the "Leader in Condensing Tankless Technology" Onze Southern Connecticut Plumbing and heating is able to offer customers the best, up-to-date support to help maintain healthy, happy water heaters.  NSS contractors have a dedicated phone line with Navien, enabling them to quickly deal with any unexpected problems that may arise.
Contact us today for the installation or repair of your tankless water heater.