Every home has a water main valve, located who knows where! What would you do during a water emergency? If a major water flow emergency were to occur, an easy to reach emergency water shutoff valve would save you from big problems and expense
Now you can shut off the water to your home at any time day or night from anywhere you happen to be. The answer could be right at your fingertips. Better yet, what if your water main valve could shut itself off and notify you of a potential problem.
The water experts at Onze Southern Connecticut Plumbing and Heating can help you avoid the stress and help minimize the potential damage from an unexpected water pipe leak.
What is a flow-based emergency shutoff valve?
A flow monitoring automatic shutoff valve uses modern technology to monitor your entire water system for anything as small as a pin hole leak to the all of a sudden and unexpected catastrophic pipe failure.
When a leak is detected the flow control shuts down the water service and an alert is sent to your smartphone. This is the latest in water mitigation technology and flow control valves are fast being installed in homes throughout the United States.
Key benefits of a flow control valve:
Peace of mind with 24/7 system monitoring
Damage, distress and costly repairs are often minimized
Insurance premium may be reduced, (notify your insurer that a flow control valve has been installed)
No guessing where to go when the water needs to be turned off.
System shuts itself off when it detects a potential leak
Potential Insurance Savings
Insurers AIG, State Farm, Nationwide, Chubb, Pure Insurance and Cincinnati are just some of the insurance companies that recognize the installation of flow shutoff valves and may provide incentives.
Water damage is a more expensive and more common loss than most other home damage emergencies.
Water leaks are more common than you might think
Water damage is 7-8 times more likely than fire* and burglary**.
Water leaks cause $13b of damage in the USA every year
45% of insurance losses come from water and frozen pipe damage
Plumbing leaks affect 8.1% of US homes each year (1 in 12)
*Fire (1 in 33 per year)
**Burglary (1 in 36 per year)
So you can see why insurers are pushing to have them installed on the mainline coming into people's homes.
What are the best flow shutoff systems?
Onze Southern Connecticut Plumbing & Heating recommends the following two brands who are both leaders in automatic flow shutoff valves:
Flo Logic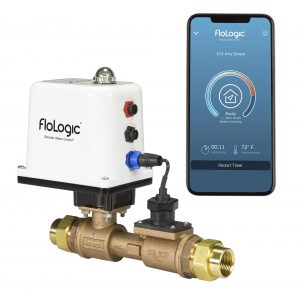 An automatic leak shutoff system with no compromise.  Flow Logic identifies leaks as small as 1/2 oz per minute and helps to protect against frozen pipe damage in low temperatures.
Works with any pipe sizes
Virtually all leaks detected, including small pinhole and high flow leaks
Control with home or away settings to automatically stop leaks
App sends remote notifications to your phone
Back-up and local control safeguards against outages and internet downtime
Made in the USA
More information: www.flologic.com
Flo by Moen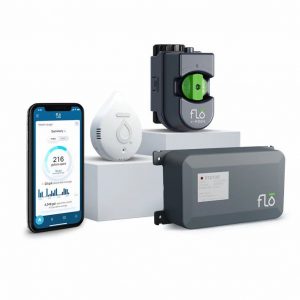 Monitors the entire water supply 24/7, sensing leaks and moisture even outside of pipes.  The system also detects weather issues, appliance failures and overflowing drains throughout your whole water system.
Works with Google assistant, Amazon Alexa and Control 4.  No smart hub required, though does require Wi-Fi.
Remote and automatic options
App-controlled
Daily leak tests (micro-leak technology)
Detects leaks as small as 1 drop per minute
Monitors the entire water system including behind walls and in the foundations
Real-time app alerts
Tailors protection to each home
See how much water you're using daily, in the app
See live water flow rate (GPM) and pressure (PSI) as well as temperature information
Historical data records
Works with 3/4 – 1 1/4 inch pipe (consult a plumber if you're unsure)
More information: www.moen.com/flo
Flow shutoff valve supply and installation
Serving Fairfield and New Haven Counties Connecticut
Interested in installing a flow shutoff valve in your home?  Want to discuss your options/benefits further?  Speak to the 5 star rated family-operate plumbers at Onze Southern Connecticut Plumbing and Heating: