Navien is recognized around the world as a manufacturer of state of the art, ultra high-efficiency gas and propane water and home heating products. Their expansion into the United States, the growth of their distribution network, the brand awareness and product quality has pushed them to the top of the industry here in Connecticut also.
Onze Southern Connecticut Plumbing and Heating has chosen Navien as their product of choice in the crowded tankless water heater and combi boiler arena. After testing five major brands we found Navien responsive to our needs in supplying, servicing and providing to our customers reliable water and heating system products at a price point that proved to be attractive and affordable.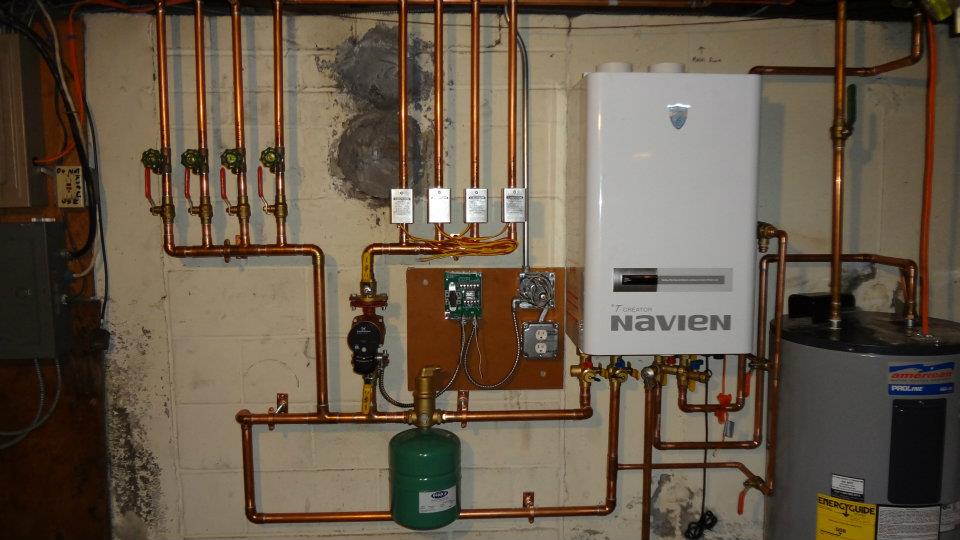 Navien products are environmentally friendly
All of the Navien products are Energy Star compliant, have low Nox burners which helps to lower harmful greenhouse gases and are industry leaders with ultra high-efficiency operation.
Navien products are suitable for large homes and businesses
Navien heaters are an ideal choice in homes where larger volumes of hot water are required, the cascading technology built into the units allow multiple heaters to be installed and operate seamlessly and efficiently during the varying heat and hot water demands the seasonal changes bring to us in the every changing weather patterns here in Connecticut.
Navien products carry an excellent warranty
Navien carries a 15 year warranty on it's heat exchangers and a full five years on all parts and components. In comparison the average tank style water heater carries a six year warranty on the tank and one year on parts.
Navien products and service requirements
A properly maintained piece of equipment is always more reliable and longer-lasting than one that is out of sight and out of mind. Every customer receives a note from the office at Onze Southern Connecticut Plumbing & Heating annually when their high efficiency products are due for maintenance. Regardless of the brand each and every piece of gas equipment requires service annually. Navien has designed and provides a full and complete service list that is easy to follow and straight forward to perform, helping the Navien product owner to enjoy a long-lasting well designed efficient heating or hot water system.
Navien products are user friendly
From the simplicity of the large digital display on the front of the unit to their Navi Link technology Navien looks to make the operation and use of the tankless heaters and combi boilers a non-issue for you the end user. Adjusting the hot water temperature, heating system operation are just the touch of a button away. Not sure what to do, a phone call to the Navien experts at Onze Southern Connecticut Plumbing & Heating will point you in the right direction for all your Navien tankless and combi boiler questions.